Professor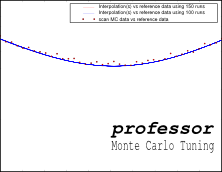 Professor is a tuning tool for Monte Carlo event generators, based on the ideas described in "Tuning and Test of Fragmentation Models Based on Identified Particles and Precision Event Shape Data" (Z. Phys., C73 (1996) 11-60). Fundamentally, the idea of Professor is to reduce the exponentially expensive process of brute-force tuning to a scaling closer to a power law in the number of parameters, while allowing for massive parallelisation and systematically improving the scan results by use of a deterministic parameterisation of the generator's response to changes in the steering parameters. The approach is not limited to MC tuning, but that is the current emphasis of this implementation.
Professor tutorial slides
Click
here
for the slides shown at the workshop at CERN, December 2010.
Professor on YouTube
See
our Channel
for screencasts and tutorials.
Professor system and Py6 tune paper
See the
Professor paper
, describing the formalism and framework, plus the final write-up of our first round of Pythia 6 tunes to a wide range of e+e- and hadron collider data.
Diploma theses on Professor
See
this diploma thesis
, describing the Underlying Event tuning of Pythia6 for the pT-ordered shower in detail (PYTUNE 329) or
this thesis
describing the tuning of the AHADIC fragmentation model of SHERPA.
Professor has been successfully used to produce the best existing tunings of the Pythia 6 event generator to data from LEP, JADE, and the Tevatron, encompassing event shapes, fragmentation functions, minimum bias QCD and underlying event studies in QCD jet events at several energies, and leptonic Drell-Yan events from CDF Run II. These tunes help to challenge theoretical models of QCD as implemented in generators, and to understand QCD backgrounds to new experiments, particularly at the LHC.
The Professor collaboration is:
Andy Buckley
Hendrik Hoeth
Heiko Lacker
Holger Schulz
Jan Eike von Seggern
Daniel Weyh
with grateful thanks also to the many generator authors and experts who have contributed (and continue to contribute) to generator tunes using the Professor system.

Professor is written in Python as a set of command line programs and an underlying library. The Rivet toolkit is used to generate MC data and retrieve experimental reference data (although any compatible source of analysis and reference data can be used.) An overview is given in "Tools for event generator tuning and validation", as well as the Pythia 6 tuning paper linked above.

In addition to Rivet, Professor relies on the following pieces of software:

If you happen to want to try out Professor and related software (Rivet, AGILe) and don't want to install all depencies, you can use our virtual machine. It is based on

VirtualBox

and can be found in the

download area

. Latest version is MCnetVM-1.1, needs ~3GB disk space after unpacking.

For more information see the Wiki and documentation. We encourage you to contact us at professor@projects.hepforge.org: we're keen to help you use the system, but a little hands-on advice goes a long way towards not getting junk results ;-)